Damaged or decayed teeth not only come in the way of your pleasant smile but also cause difficulties in eating and talking. A perfect set of healthy teeth can restore your comfort and confidence. So, don't let your broken or cracked tooth discourage you when your dentist can fix it best with dental filling in Nungambakkam.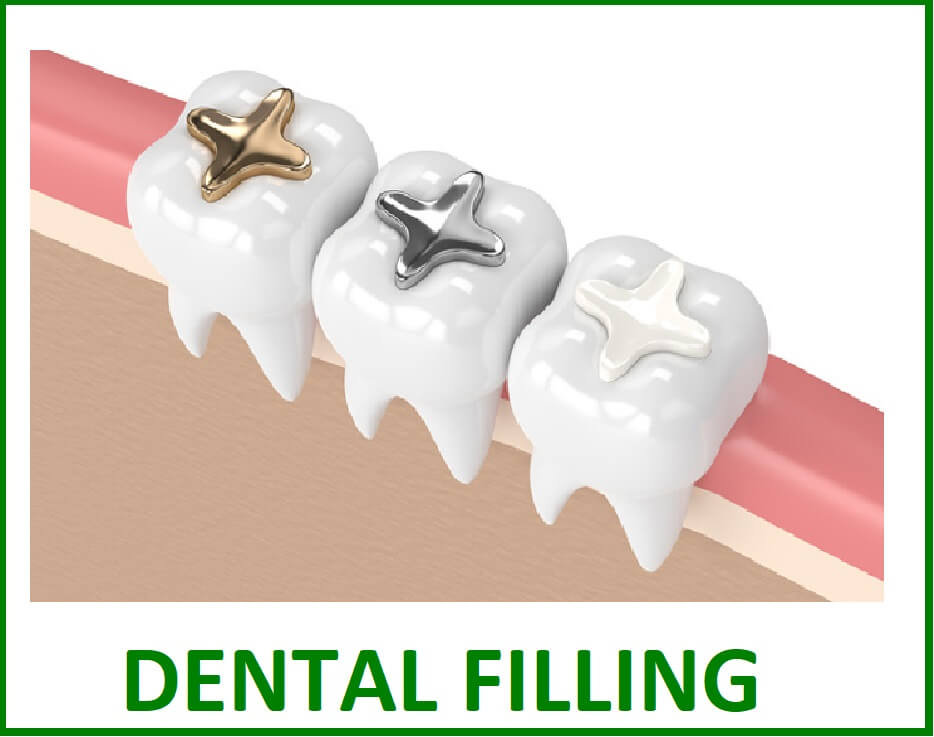 Pulp Dental is a leading dental hospital in Chennai offering dental fillings. We have the best infrastructure facilities and affordable treatments. Pulp Dental Hospital was founded by Dr. Ganesh Vaiyapuri, who is an expert dentist in Nungambakkam, with 15 years of experience in various dental treatments. He and his team will help you restore the decayed or broken teeth with safe and cost-efficient dental/ teeth filling treatment in Nungambakkam, Chennai.
What is a dental filling?
Dental filling is a method of restoring missing tooth structure resulting from decay or trauma. The decay makes the tooth hollow. A dental filling helps to seal this gap and protect it from further decay. A filling also repairs broken or cracked teeth and the teeth which wear off due to dental habits like teeth grinding, nail-biting, etc.
When does one need a dental filling?
There are various signs and symptoms where an individual may require fillings. The symptoms could be as below:
A hole in your tooth
Dark spots on the tooth
Food stuck between some gaps of the teeth
A broken or chipped tooth
Sensitivity to hot and cold foods
Single or multiple cavities
If you acquire any of the mentioned signs and symptoms, then there is a possibility that you may need a filling. The ultimate decision will be of your dentist after a thorough oral examination.
What is the cost of dental filling?
The tooth filling cost in Nungambakkam, Chennai depends on the extent of decay, the tooth's location to be filled, and the type of material used. The price will be high if you have cavities in several teeth needing multiple fillings. Also, if the cavity is hard to access, requiring specialized equipment and more time may add to the cost.
Call Pulp Dental Hospital to schedule a consultation and know the cost of dental fillings. We offer an affordable teeth gap filling cost to fit your budget.
Types of dental fillings
Dental fillings are of various types. The filling to be applied will depend upon the severity of decay and other factors such as being allergic to a material.
The different kind of fillings available are:
Metal filling
This old age filling is long-lasting. In this type, the silver filling is relatively reasonable. But gold though expensive is a selected choice as it can withstand chewing forces and last for 10-15 years.
Amalgam filling
These are the most researched and extensively used for quite a long now. These are made by combining different metals, and hence, they have high strength.
Composite filling
These have the same color as your teeth. Hence, many patients who want to hide their filing prefer it. It is suitable and often recommended for front teeth as it bonds well with the tooth structure. The dentist also uses it for a chipped tooth. It does not last longer compared to metal and amalgam filling and can wear off over time.
Porcelain / ceramic filling
The porcelain filling is most suitable if you have severe aesthetic concerns. These cover most of the tooth; hence we can use them if the decay is deep. These long-lasting fillings do not stain or wear off quickly.
What is the procedure of dental filling?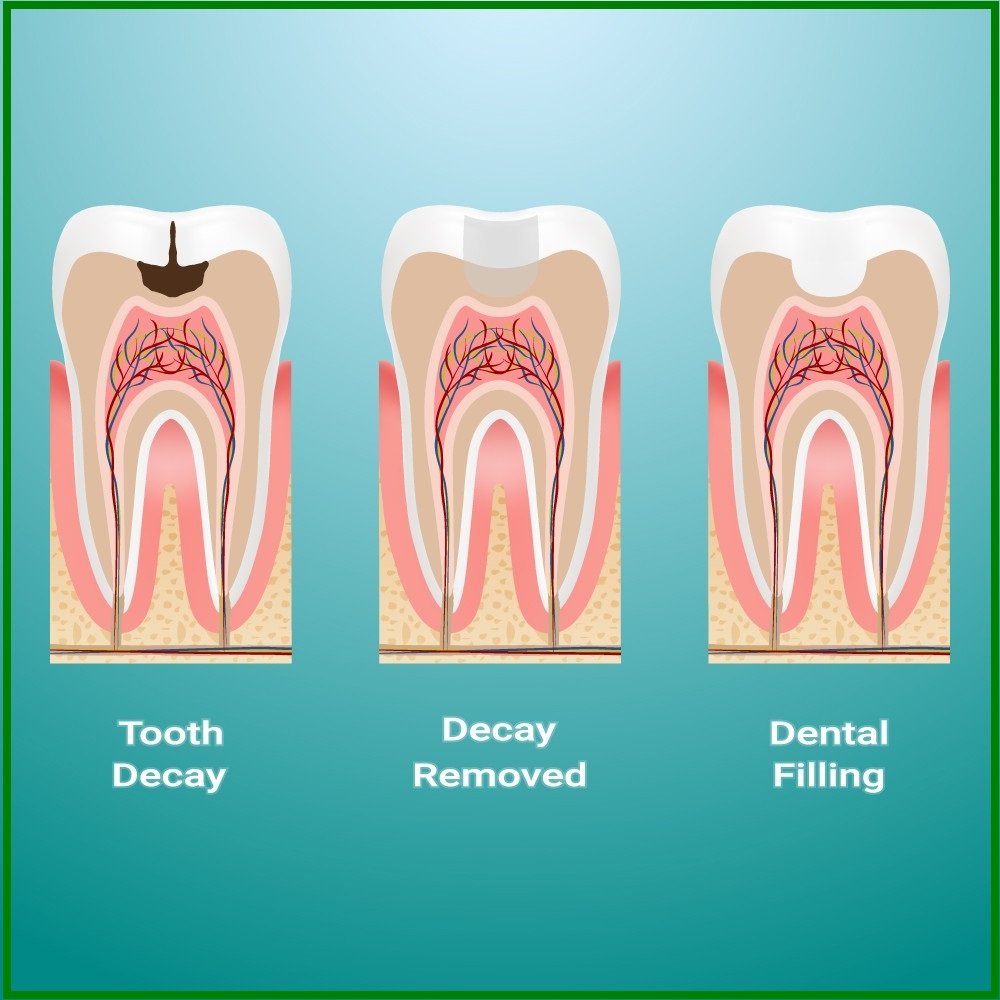 A dental filling is generally required if your tooth is decayed. It can prevent further decay and protect your tooth.
At first, your dentist will examine the teeth and check the severity of tooth infection.
If required, the dentist would do an X-ray for precise information.
Your dentist will administer local anesthesia depending upon the extent of the decay to numb the area around the infected tooth.
Then, the dentist prepares the decayed tooth or the areas around it for restoration.
If your tooth is damaged, the dentist uses a dental handpiece or a laser to remove the infected portion.
Further, your dentist will apply the filling to the area to fill the cavity. The type of filling will depend upon the condition and patient to patient.
Finally, your dentist will polish the filled tooth to conclude the dental filling procedure.
Post care after dental filling
Before you start eating, see that the effect of anesthesia is over.
If the effect of anesthesia is on, don't eat or drink too hot or too cold foods.
You may feel soreness around your gum area. It will remain only for several days.
Do not eat hard or sticky food for some days.
You should use a mouthguard to protect your filling if you habitually grind your teeth.
If you feel dental sensitivity for longer or your filling comes out, then you should immediately visit your dentist.
Maintain the best oral hygiene routine like cleaning, brushing, mouthwash, and flossing.
If you have dental problems, you should book an appointment with our experienced dentists. You can avail the most suitable and affordable dental treatment.
Why choose Pulp Dental Hospital for dental fillings?
Our Founder, Dr. Ganesh Vaiyapuri, is a proficient dentist, with more than 15 years of experience.
Dr. Vaiyapuri is a smile correction and designing specialist. It is a very skillful dental makeover process that requires immense expertise and concentration.
Besides, he has excellent experience in handling patients with complex dental ailments. Hence, his patients have immense faith and trust in him.
Pulp Dental is among the leading dental hospital in Chennai. It has modern infrastructure, including chairs for adults and children for dental treatments, dental X-ray devices, etc.
Pulp hospital is a kind of dental hospital that offers 24×7 dental treatments. We know some dental treatments can be costly. Hence, to help our patients, we also provide an EMI facility at 0% interest.
We also serve international clients across the USA, France, Russia, Switzerland, Canada, Saudi Arabia, Malaysia, etc.
Frequently asked questions
Q) How long does a dental filling last?
The durability of dental filling depends on the material of the filling. It also depends on how you maintain your filling. The life of dental filling ranges from 10 years to 20 years.
Q) Can dental filling drop off?
Yes, but the possibilities are rare.
Q) What to do if fillings come out?
Visit your dentist immediately when your dental filling comes out.
Q) How will I know that my tooth filling is loose?
If you have sensitivity even after you get the dental filling, then it is possible that your filling is about to fall off. Or if you experience pressure while chewing or have a toothache, then the chances of it coming off are high.